26 octobre 2008
7
26
/

10
/

octobre
/

2008
19:33
More on the Links between Obama and Extremist Islam
by Daniel Pipes
Tue, 21 Oct 2008
http://www.danielpipes.org/blog/2008/10/more-on-the-links-between-obama-and.html
A reader points out that Sutton has apparently retracted his statement about a connection between Barack Obama and Khalid Al-Mansour that I referred to in my column today, "Obama Would Fail Security Clearance." On Sep. 6, shortly after Sutton's statement attracted attention, Kevin Wardally, a " a spokesman for Sutton's family," e-mailed to Ben Smith of Politico a statement:
The information Mr. Percy Sutton imparted on March 25 in a NY1 News interview regarding his connection to Barack Obama is inaccurate. As best as our family and the Chairman's closest friends can tell, Mr. Sutton, now 86 years of age, misspoke in describing certain details and events in that television interview. We regret this unfortunate incident and we ask good conscientious people to extend compassion and grace to Percy Sutton.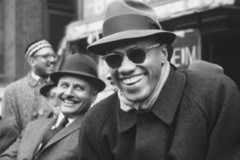 Percy Sutton (middle) and Malcolm X (right) at a rally in Harlem in 1963.
But then Kenneth R. Timmerman of NewsMax.com contacted the Sutton family, which in turn
denied that Wardally spoke for them
:
Newsmax contacted the Sutton family and they categorically denied Wardally's claims to Smith and the Politico.com. So there was no retraction of Sutton's original interview, during which he revealed that Khalid Al-Mansour was "raising money" for Obama and had asked Sutton to write a letter of recommendation for Obama to help him get accepted at Harvard Law School.
Sutton's personal assistant told Newsmax that neither Mr. Sutton or his family had ever heard of Kevin Wardally. "Who is this person?" asked Sutton's assistant, Karen Malone. When told that he portrayed himself as a "spokesman" for the family, Malone told Newsmax, "Well, he's not."

According to a 2006 New York magazine profile, Wardally is part of a "New New Guard" in Harlem politics that has been challenging the "lions" of the old guard, Charles Rangel and Percy Sutton. That makes him an unlikely candidate to speak on behalf of Sutton. Sutton maintains an office at the Manhattan headquarters of the firm he founded, Inner City Broadcasting Corporation. ICBC owns New York radio stations WBLS and WLIB.

Sutton's son Pierre ("Pepe") runs ICBC along with his daughter, Keisha Sutton-James. Malone told Newsmax that she had consulted with Sutton's family members at the station and confirmed that no one knew Kevin Wardally or had authorized him to speak on behalf of the family.

For someone claiming to be a "spokesman" for the Sutton family, who was authorized to call Percy Sutton a liar, Wardally even got Percy Sutton's age wrong. Sutton is not 86, as Wardally said, but close to 88. He was born on Nov. 24, 1920.

Wardally responded to a several Newsmax phone messages and emails with a terse one-line comment, maintaining his statement that Percy Sutton "misspoke" in the television interview. "I believe the statement speaks for itself and the Sutton Family and I have nothing further to say on the topic," he wrote in an email. Asked to explain why it was that no one at Inner City Broadcasting Corp. knew of him or accepted him as a family spokesman, Wardally responded later that he had been retained by a nephew of the elder Sutton.
Comments: (1) It appears that Sutton is standing by his statement. In any case, it would be hard to credit Wardally's statement that Sutton's recollections were pure fantasy. (2) Timmerman also points out that Al-Mansour did not fully deny the Sutton statement, but that he was determined to keep a low profile so as to avoid embarrassing Obama. (October 21, 2008)
Oct. 23, 2008 update: Another reader points out that I missed a further Obama connection to CAIR – that Joseph E. Sandler of the law firm Sandler, Reiff, & Young is one of three lawyers who filed a motion to dismiss Philip Berg's case claiming that Obama does not meet the citizenship requirements to become president of the United States. (I have posted both the original motion to dismiss and the first amended motion.)
As the Yid with Lid blog that broke this news puts it, Sandler is the legal hit man for CAIR; his "role for CAIR has been to stifle people from telling the truth about Islam. For example, last year he tried to get Jihad Expert Robert Spencer banned from speaking to the Young American Foundation, by using a threatening letter. Sandler followed up by threatening columnist Mike Adams for writing about the Spencer incident."
Related Topics: Muslims in the United States, US politics